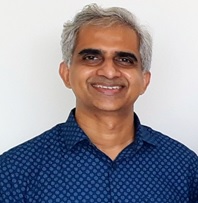 Message from the Director
Institute of Advanced Virology (IAV) depicts the unbridled ambitions and aspirations of the enthusiastic South Indian state of Kerala to emerge as a global player in Virology. Kerala is one of the states in India haunted consistently by sequential viral epidemics. Establishment of IAV fulfills the pressing need of the state to have its own cutting–edge Virology research Centre.
Two facts emphasize Kerala's role in preventing future viral disease emergence in the country: one is its close proximity to Western Ghats, a global biodiversity hotspot and home to fauna that may harbour an array of unknown pathogens. The second is the state's highly vibrant tourism which represents a global diaspora. IAV strives to support the state by extending complete spectrum solutions that spread from early outbreak detection to offering preventive vaccines and therapeutics. The eight departments of the institute are designed with focused goals to develop platform technologies and prototypes to convert the advanced theoretical knowledge generated into translational outcomes for public benefit.
For the one-and-a-half-year-old IAV that is taking baby-steps, careful nurturing, hand-holding and ample encouragement from well-wishers are the pillars of strength. IAV enjoys these from the Government of Kerala and the public at large, who is keeping a close watch with great expectations. The team at IAV, young, energetic and enthusiastic, is well aware of these responsibilities, and is committed.
IAV presently functions from a beautiful, well-designed 27, 000 sq. ft building, which will soon add another 80, 000 sq. ft. area to expand its laboratories. An advanced molecular diagnostic facility is already functional. A state-of the art Biosafety Level -3 laboratory, instrumentation facilities including genome sequencing and cellular imaging platforms, and experimental animal house facilities are being set up. Also, IAV is in the active process of establishing collaborations with medical colleges and research institutions within the state and outside to expand its research activities.
IAV is an institution with a prodigious future. It envisions to be a centre of global importance and deliver key contributions to India's pandemic preparedness.